Dog Walking

There are so many benefits from ensuring that your dog is walked on a regular basis. Daily walks provide your dog with both physical and mental exercise, as well has some training.
A dog's senses are much keener than the average human. Sights, smells and sounds are much more complex and intriguing to a dog. Whereas a human cannot sense the depth that a dog does. A dog's natural instincts are to be completely aware of their surrounding and that there is nothing out of the ordinary.
When going for a walk, your dog is constantly watching, sniffing and even considering their surroundings. Simply walking the same route every day can provide a multitude of stimulation for your dog's senses as they detect even the slightest changes.
Pack Walks

A well established pack usually consists of 6 or more dogs. This allows for a rewarding learning experience as they play together and learn from one another. When a new dog is introduced to the pack, the new dog learns very quickly and essentially begins to model the rest of the pack.
Since dogs naturally learn by example (very similar to children), a dog doesn't want to be the "bad" kid standing out. The dogs learn to walk in a calm manner without pulling, even as they walk past distractions.
The major benefit in a pack walk is that all of the dogs' senses are stimulated and challenged during the walk. Pack walks result in a very happy and well balanced dog.
We always have safety in mind as our #1 goal. We ensure that we have multiple handlers during our large pack walks so we can deal with any unplanned or unforeseen event, such as off lead dogs approaching and other common dangers that may occur.
This allows all the dogs to experience a very rewarding walk. I mean let's face it, that's even a lot of poop for one person to handle alone.
Dog Running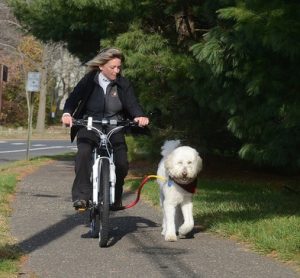 Happy Tails also specializes in running your dog using a bike. No, we aren't one of those people you see running a dog using a regular leash.
That can be very dangerous for both canine and human.
We use a very unique bike leash that allows us to run even the worst pullers, safely. This leash will not be found in stores.
It was created by an aviation engineer who designed it for his leash reactive black lab.
It attaches to the lower part of our back tire. The Burlington County Times newspaper recently featured us in an article highlighting the bike leash.
**We can also run your dog using our human legs**